It's been wonderful working on a commission for the LGBT Community Center of Greater Cleveland. Their new building, by Architecture firm WMF, with lead architect David Thal, in the Gordon Square Arts District in the Detroit Shoreway Neighborhood on Cleveland's west side, is nearing completion. The building is modern, with its metal, glass and masonry planes. Yet, it also nods in respect to its neighbors, where it feels at home in its historic context.
I'm honored that my work will be part of the life of the building and the people of the LGBT Community Center of Greater Cleveland. I hope the joyfulness this artwork makes me feel, is also experienced by those who interact with it. As a gay man, together with my husband Bruce Baumwoll for 38 years, we've lived our life proud; fought for civil rights; cared for each other. So, it's especially meaningful, to be in a place where the LGBT community is served.
About The Print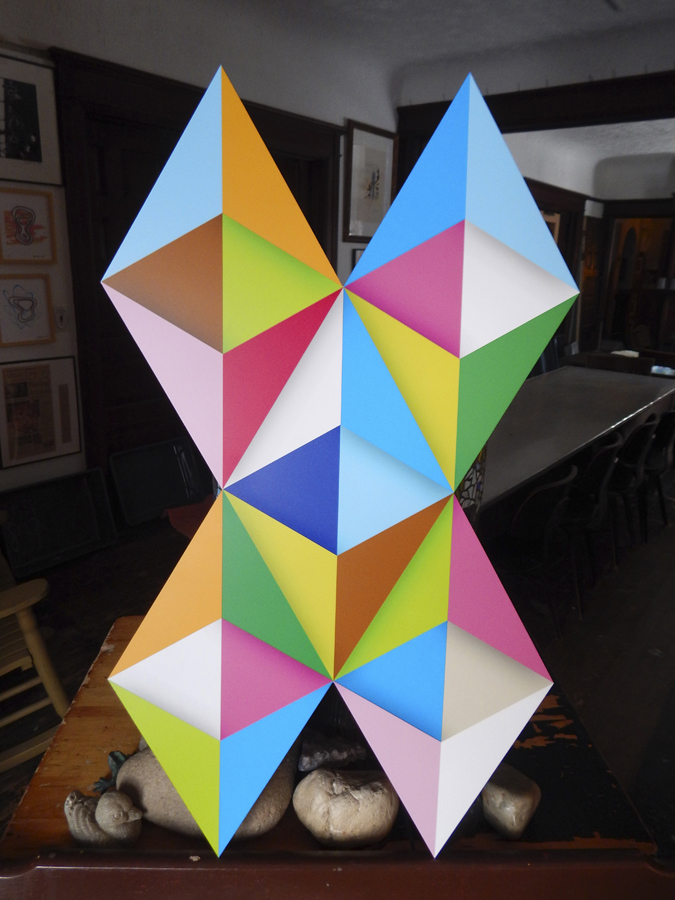 The type of print is UV cured inkjet on a composite aluminum panel called Dibond. A UV Curing Inkjet Printer cures the ink practically instantly as powerful UV light is applied while the ink is being laid down. The other feature will be that the print will be cut to shape on a CNC Router.
The artwork will be made of of 53 diamonds. The diamond shape was given the name Rhombus by the mathematician Euclid, hence the title of the work Fifty Three Rhombuses. A Rhombus is the geometric name in Euclidean Geometry which says it is a simple quadrilateral whose four sides all have the same length. The most famous Rhombus of all is perhaps the Baseball Diamond. Each Rhombus is divided up into four triangles, each of varying color. For the test print, I did 5 of these Rhombuses at full size (see image above). I used this test print, not only to check color, but also to test the accuracy of the cutting. To my delight, the CNC router cut it with exacting accuracy; important because of the exacting nature of the geometric forms. The overall size of the final print will be 118″wide x 56″high.
Doing the printing is Vista Color Imaging in Cleveland. They do great work. I Enjoy working with them and they enjoy working with artists. Thank you Kim and Scott and the rest of the team!