I'm so proud that my art was selected for a public art installation located at one of the busiest intersections in downtown Cleveland at the North East corner of Euclid Avenue and East 9th Street. My work and the work of 5 other Cleveland area artists were chosen as part of the competition Citizens Artbox, held by the Downtown Cleveland Alliance in partnership with Citizens Bank. The DCA's website says:
In connection with Step Up Downtown, DCA's five-year vision and tactical plan to create a more connected, walkable Downtown, the goal of the Citizens ArtBox project is to enliven Downtown Cleveland by bringing local art to the street. Winning designs will decorate the utility boxes that line Euclid Avenue from Public Square to PlayhouseSquare. Up to 11 boxes will be wrapped with printed art designs from Cleveland-area artists.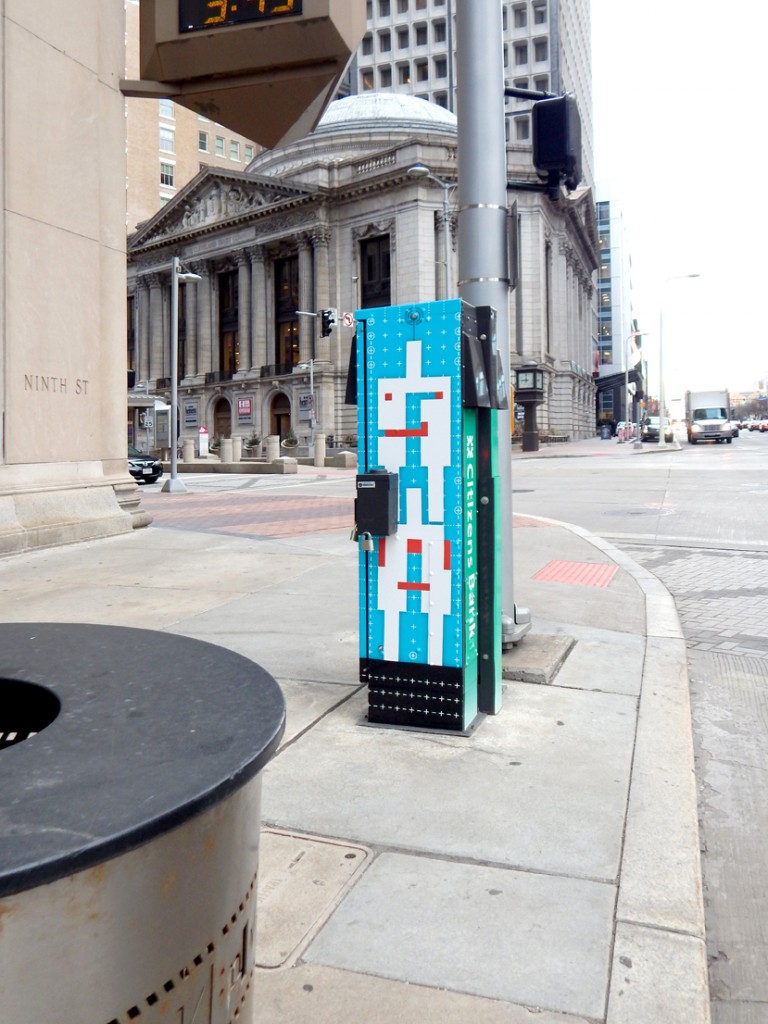 Above: One side my utility box titled Model Citizens of Downtown,  located at the north east corner of East 9th Street and Euclid Avenue. The domed building in the back ground is the historic  Cleveland Trust Rotunda Building. The building has been restored and is now a very cool Heinen's market. click here to see 360 degree views of the incredible domed space, a fine example of early 20th century neoclassical architecture.
Narrative for "Model Citizens of Downtown"ArtBox design:
For the Citizens ArtBox, I reflect the citizens of downtown Cleveland as abstract personas called "Model Citizens" beaming with civic pride for the downtown we love. The Citizens of downtown live in a beautiful, bustling robust urban environment, with a grid of streets and avenues in which open spaces connect to and lined with the buildings that house our arts, public and civic institutions, businesses, professional offices, merchants, hospitality, restaurants and more. Rows of dotted lines running horizontally behind the Model Citizens represent the streets. A grid of tick marks are an abstract reference to the downtown grid. The Model Citizens are embedded and aligned within this grid representing the connection to the urban environment we inhabit. Each model citizen is unique yet at the same time, much the same, representing that while we are all unique individuals; we all respect our differences and care for the common good. Model Citizens each have a wi-fi antenna representing that we live in a new age of modernity, connected to each other through technology in a way unprecedented in history and that with this connectivity comes responsibility; to use this new ability to connect to help one another reach our highest potential.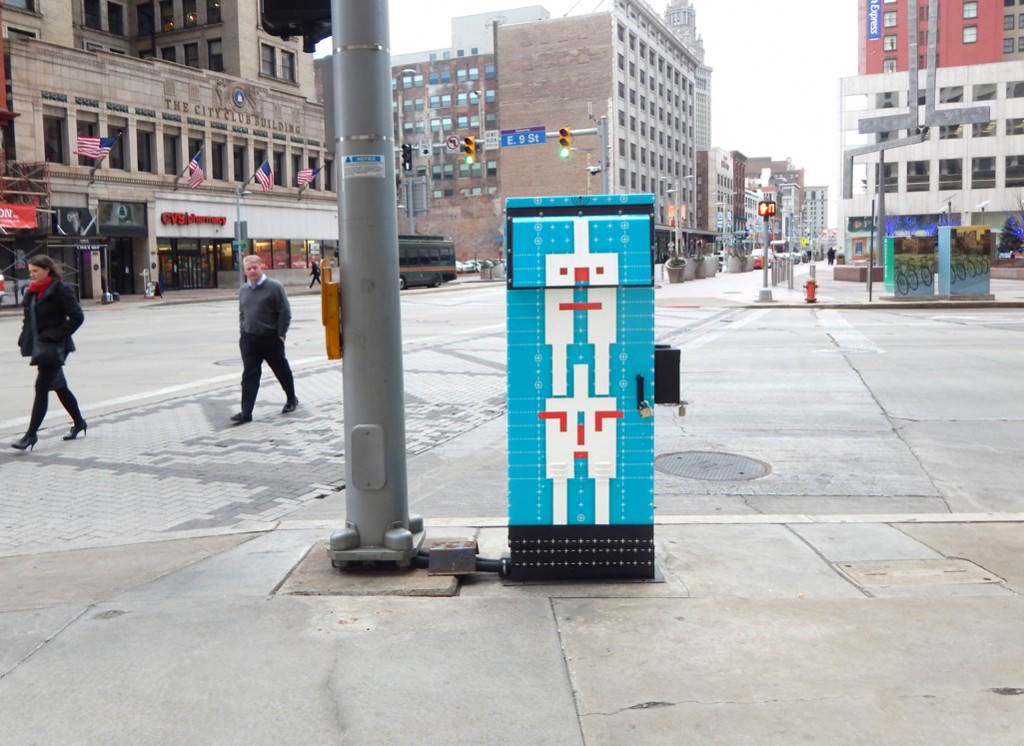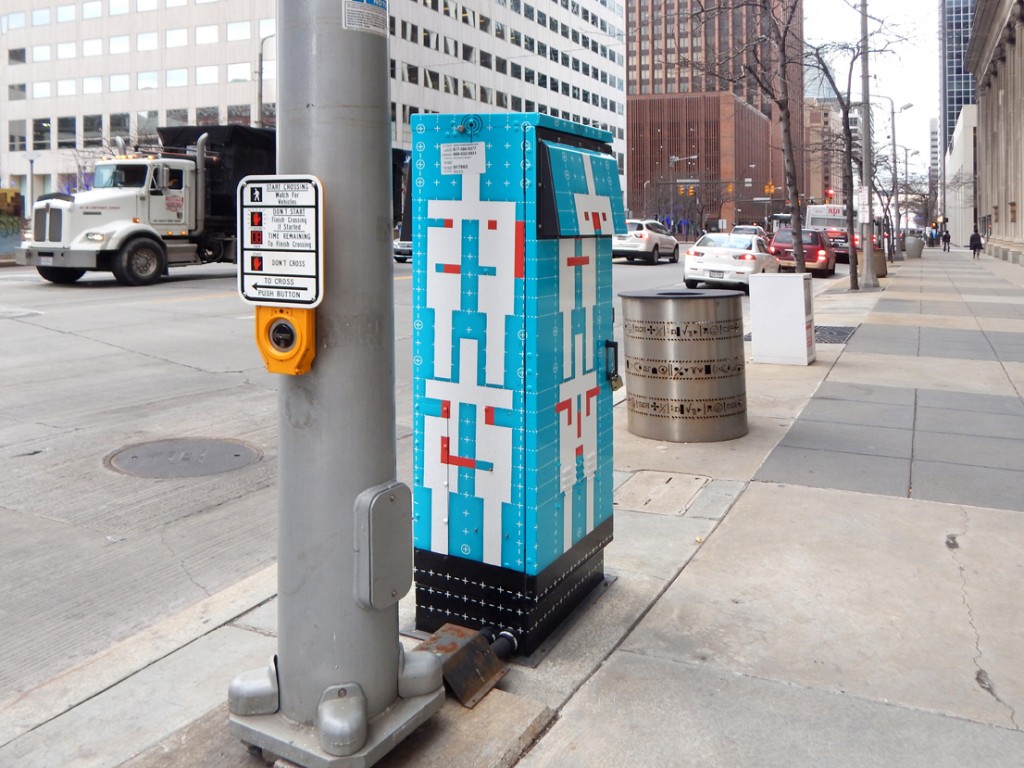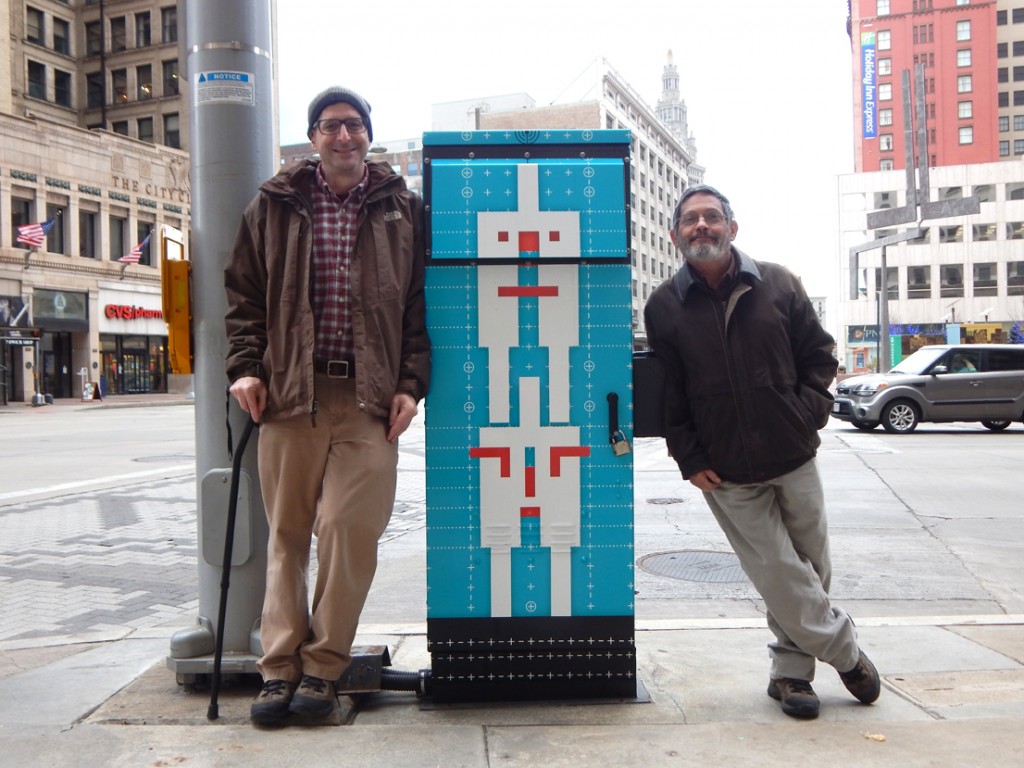 from left: Andrew Reach and Bruce Baumwoll
OTHER WINNING  CITIZENS ARTBOX DESIGNS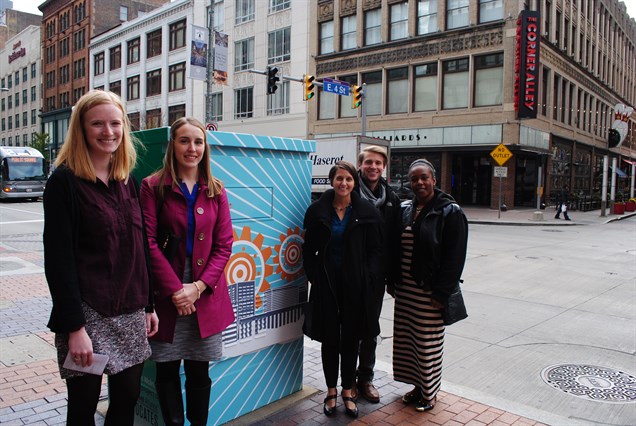 Chris Wolnick's design titled I Am A Part of Something
photo courtesy of Downtown Cleveland Alliance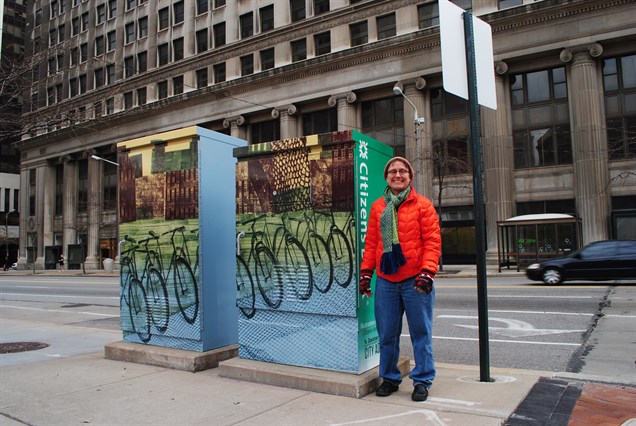 Artist Karen Beckwith and her design titled Bike Sharing Systems
photo courtesy of Downtown Cleveland Alliance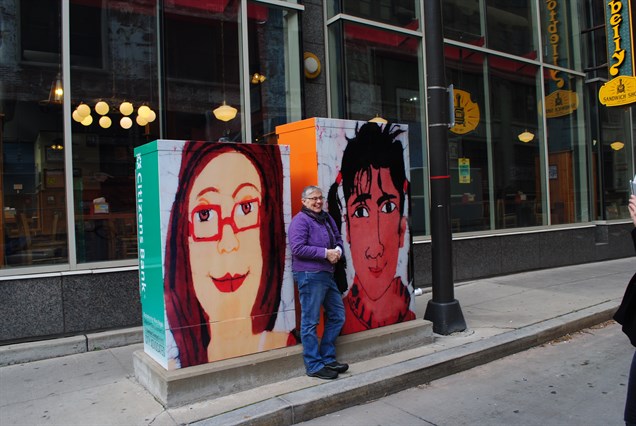 Artist Mary Brigid and her design titled Self Portrait, Best Friends
photo courtesy of Downtown Cleveland Alliance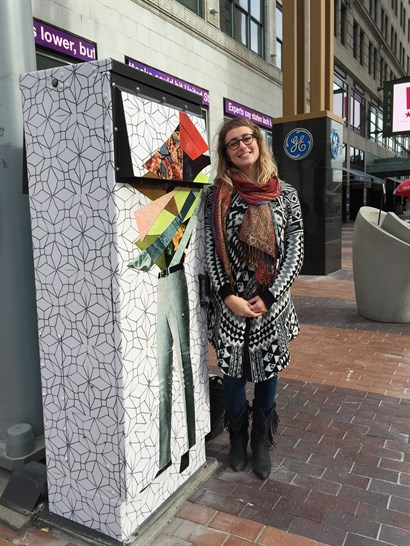 Artist Ashley Pastore with her design titled Pants
photo courtesy of Downtown Cleveland Alliance