click on image to enlarge (except mobile devices)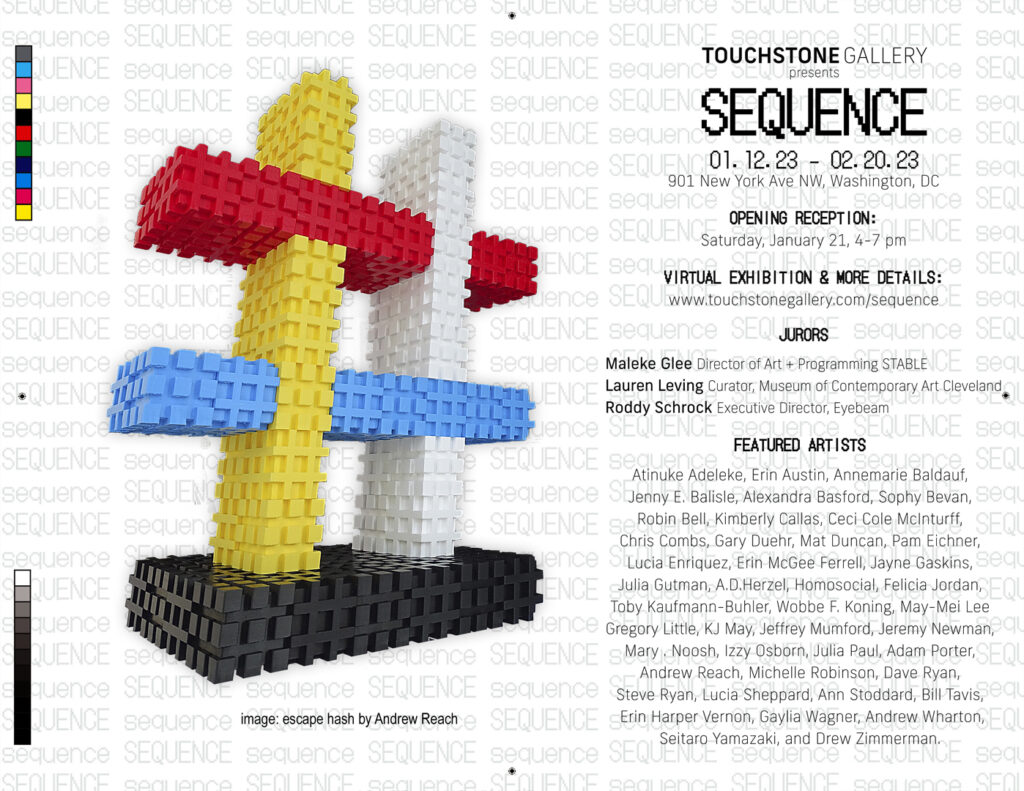 My 3d Printed Sculpture ESCAPE HASH is being shown at Touchstone Gallery in Washington DC in the exhibition SEQUENCE. The exhibition opens January 12 and the opening reception is January 21. https://www.touchstonegallery.com/sequence

This sculpture was originally created when I was commissioned by the Artists Archives of the Western Reserve to make a tactile touchable artwork for the visually impaired for the exhibition W/O Limits: Art, Chronic Illness & Disability.
Click here to read more about the creation of this sculpture.
About the exhibition:
Art can be created with order or disorder; a plan or in chaos. Technology-based art can embrace or ignore process in new and intriguing methods. SEQUENCE at Touchstone Gallery was an international open call which invited artists to submit works created with, or influenced by, technology. The resulting exhibition includes a gallery show, a virtual show, and a series of performances featuring 44 artists from 14 states (plus the District of Columbia), Scotland, and Japan.
SEQUENCE Jurors:
Maleke Glee, Director of Art + Programming STABLE
Lauren Leving, Curator at Museum of Contemporary Art Cleveland
Roddy Schrock, Executive Director, Eyebeam
Featured Artists: Atinuke Adeleke, Erin Austin, Annemarie Baldauf, Jenny E. Balisle, Alexandra Basford, Sophy Bevan, Robin Bell, Kimberly Callas, Ceci Cole McInturff, Chris Combs, Gary Duehr, Mat Duncan, Pam Eichner, Lucia Enriquez, Erin McGee Ferrell, Jayne Gaskins, Julia Gutman, A.D. Herzel, Homosocial, Felicia Jordan, Toby Kaufmann-Buhler, Wobbe F. Koning, May-Mei Lee, Gregory Little, K J May, Jeffrey Mumford, Jeremy Newman, Mary . Noosh, Izzy Osborn, Julia Paul, Adam Porter, Andrew Reach, Michelle Robinson, Dave Ryan, Steve Ryan, Lucia Sheppard, Ann Stoddard, Bill Tavis, Erin Harper Vernon, Gaylia Wagner, Andrew Wharton, Seitaro Yamazaki, and Drew Zimmerman.